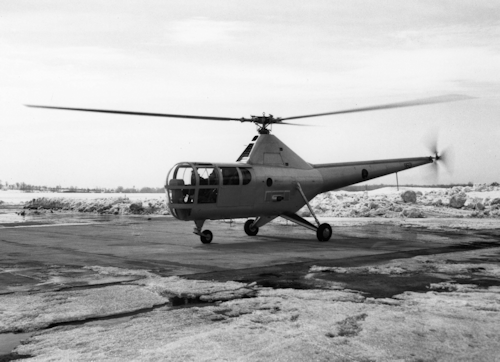 August 2018 Blog
Latest News
Tuesday, August 21, 2018
Hello everyone: The enclosed photo on the left is a picture of the very first helicopter purchased by the Canadian Military for the Royal Canadian Air Force (R.C.A.F.) serial # 9601  back in 1947.The photo was taken by Edmontonian aviation photographer Bill Coutrelle.The S-51 entered service on April 5, 1947 arriving in Trenton, Ontario. The first pilot was Flying Officer Tom Walnutt. He had the first accident with # 9601 on March 28, 1947. While practicing with the S-51 during a landing the tail rotor contacted the ground. The helicopter started to violently spin around and fell to the ground. Walnutt was injured and the helicopter badly damaged. FO Pat Clarke replaced Walnutt as the pilot on the S-51. The helicopter was eventually repaired to fly again.
The helicopter is a Sikorsky S-51/H-5 four-place (pilot in front and three place bench seat in the back.) It is the very first military helicopter to land in Edmonton, Alberta on April 19,1948 and was flown by Flight Lieutenant Robert Heaslip. The helicopter eventually spent time at the Air Force base in Cold Lake, Alberta. Seven of these helicopters were obtained by the R.C.A.F. from Sikorsky Aircraft in Bridgeport Connecticut in the USA.
The S-51 had a gross weight of 5500 pounds, with a useful load of 1450 pounds. The helicopter was powered by a 450 hp Pratt & Whitney R 985 engine. The Sikorsky S-51 cruised at 85 mph and had a service ceiling of 14,800 feet. The S-51 had a range of about 300 miles.
The first several S-51 helicopters were aluminum in color and after that they were delivered in a yellow color scheme. Serial # 9601 and 9602 were later painted yellow. They were operated from Halifax, N.S. (at Shearwater) out west to Sea Island B.C. on Vancouver Island and up north to the Air Force station in Whitehorse, Yukon. Several S-51 helicopters were located at the Canada Joint Air Training Centre (CJATC) in Rivers, Manitoba and used for basic training mainly with the Canadian Air Force and Army.
R.C.A.F. FO Tom Walnutt, FO Pat Clarke, F/L Tom Causey, F/L Robert Heaslip, and F/L Bert Milliken were all trained on S-51 helicopters during 1947.
Serial # 9601 was in service with the Air Force until May 15,1966 when the S-51 was retired. It is presently in the Canada Aviation and Space Museum in Ottawa, Ontario where it is on display. The last R.C.A.F. S-51, serial # 9607 can be found on display at the Hangar Flight Museum in Calgary, Alberta. One other R.C.A.F. S-51 serial # 9603 is located at the American Helicopter Museum in West Chester, Pennsylvania,  U.S.A. Another R.C.A.F. S-51 serial # 9602 is also located at the New England Air Museum in Windsor Locks, Ct, but has been repainted back to a civilian Sikorsky color scheme.
S-51 # 9604 was written off in an accident in Manitoba during May 1962. S-51 # 9605 was struck off charge April 1, 1961 and was ferried out to Lincoln Park in Calgary, Alberta. Final disposition is unknown. # 9606 was written off in a hangar fire at Sea Island RCAF Station on Vancouver Island on March 26, 1954.
Now is the time to purchase The Bell 47 Helicopter Story at the reduced price of only $75.00 plus postage and GST for books sold in Canada. With Canada Post increasing their mailing costs, new postage is $30.00. The special price is good until the end of the year.
The Alberta Forestry Helicopters in Wildfire Management are going fast. Less than 100 are available and there is no plans to print additional copies. It is still summer however why not think of buying the perfect Christmas holiday gift for the best price in 2018.