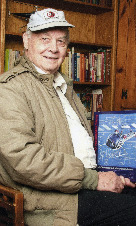 Latest Website News
What is NEW
Friday, June 15, 2018
Welcome to the latest BLOG. 
The picture on the left shows helicopter pioneer Hal Symes holding a copy of The Bell 47 Helicopter Story. Hal was kind enough to do the forward for the Bell 47 Book. Hal is in his early 90s and lives near Atlanta, Georgia. Hal learned to fly an early Model 47 helicopter at the Bell Aircraft Corp. factory in Niagara Falls, N.Y. just after the end of the Second World War. He was one of the early pilots to go to Argentina where he sprayed and dusted the locust infestation in the agricultural areas piloting a Bell 47B-3 open cockpit helicopter.. Returning to the USA, Hal obtained work flying Hiller 360s for Stanley Hiller in California. He eventually went to work for Igor Sikorsky in Connecticut as a test pilot for Sikorsky Helicopters. He flew the Sikorsky S-51 flying customers and officials for United Aircraft. He was instrumental in test flying all the  military Sikorsky S-64 heavy lift helicopters as they came off the production line. Hal has the distinction of flying all the first early commercial helicopters for Bell, Hiller, and Sikorsky during his flying career. Hal ended up helping to get the Sikorsky S-64 helicopter into the first commercial operations in the USA and overseas though out his helicopter flying career. Hal Symes is one of the last of the early helicopter pioneers in the United States.
Bell 47 Books are again available in the Netherlands at the Aviation Mega Store. The American Helicopter Society (now Vertical Flight Society) have Bell 47 Books available for sale. The book is available at the Niagara Aerospace Museum. The book is also available on Amazon and E-Bay too.
My new book on the Forestry Helicopters in Wildfire Management is available on my website for sale, helicopterheritagecanada.com. and on E-Bay. Please note that this is a very limited run. There are less than 200 available.
With the start of this BLOG, please find the first historical article on the history of helicopters in fire fighting in North America originally published in a past issue of the magazine Vertical. Contact Vertical Magazine in regard to new subscriptions to one of the best available helicopter magazines in all of the USA and Canada.