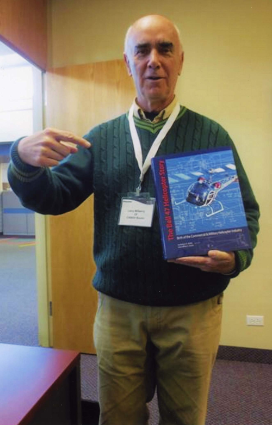 HOLIDAY SEASON
HELICOPTER BOOK SALES
Monday, December 03, 2018
Hello all helicopter enthusiasts:
With the holidays approaching in a few weeks, now is the time to purchase that unique book on rotary wing aviation to read during the cold winter days when one cannot get outside. What a perfect time to purchase. Price includes GST tax in Canada plus shipping at a reduced price. The Bell 47 Helicopter Story is only $ 75.00 including GST, while the Alberta Forestry Helicopters in Wildfire Management is only $30.00 including GST. Special is on until December 31st. Now that the POST OFFICE strike is finally over, this is a great time to purchase these important historical helicopter books. Contact helicopterheritagecanada.com and take advantage of the specials.
Larry Milberry owner of Canav Books/Toronto Ontario on the left photo shows off the book on The Bell 47 Helicopter Story at the Freisen publishers in Manitoba. The book is available on my website helicopterheritagecanada.com , the Aviation Mega Store in the Netherlands, and the American Helicopter Society (Now the Vertical Flight Society) in the USA. Just type in Bell 47 Helicopter Story and you can read numerous coverage of excellent, positive reviews of this important history of the Bell Model 47 helicopter. Get your copy soon before they all sell out. The book will not be reprinted.
Larry Milberry's Canav Books.com is THE aviation book publisher in all of Canada. Check out his website. One can purchase some of the best aviation books ever published on Canadian aviation history. He has an extensive set of different aviation books for sale. Plus he sells many other author's publications some quite rare and hard to find. Check him out. Military aviation in Canada is his passion. You will not be disappointed.