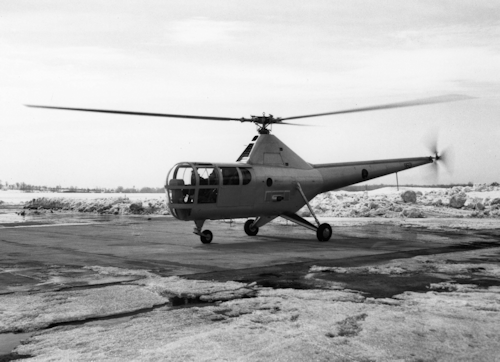 Canadian Helicopter History
Birth of the Helicopter Industry in Alberta
Monday, February 18, 2013
Today, one only needs to look up in the sky to observe rotary-wing helicopters skirting across the heavens carrying out various operations and duties. The commercial helicopter industry only had its infancy not long after the Second World War came to an end in 1945.
The military were the first to use helicopters in the latter part of World War II mainly in Germany, the U.S.A. and in England. The western world's first production helicopter was the United Aircraft - Sikorsky Aircraft Corporation's R-4 "Hoverfly" two-place helicopter in Connecticut, U.S.A. which had its first flight on January13, 1942.
The Bell Aircraft Corporation in Niagara Falls, N.Y. Helicopter Division was the first Company in the western world to be licensed to use its new Bell two-place Model 47 for civilian use back on March 8, 1946. The Bell Model 47 was certified by the United States C.A.A. (later F.A.A.) on April 8, 1946. Bell Model 47B deliveries commenced in late 1946, while the first Sikorsky S-51 commercial helicopters were delivered during the summer of 1946.
In Canada, it was the Royal Canadian Air Force (RCAF) who initially purchased seven Sikorsky S-51/H-5 four-place helicopters for training and search and rescue duties commencing in 1947. The first commercial helicopters were also  imported into Canada during 1947, a Bell Model 47B3 agricultural helicopter (CF-FJA) going to the Photographic Survey Company in Toronto to be used initially in spraying and dusting  crops in southern Ontario.
The first recorded us of a helicopter in Alberta occured during 1948. The Royal Canadian Air Force's first Sikorsky S-51/H-5 # 9601 landed in Edmonton on Monday April 19 at the RCAF base. It was flown from Ontario by Flight Lieutenant Robert T. Heaslip. The helicopter was based in Edmonton to be used with the Air Force's para rescue unit.
Okanagan Air Services' first Bell 47B3 CF-FZX based in British Columbia was used in Banff National Park to spray against the lodgepole pine needle minor insect during August 1948 on three small 20 acre plots in the Park.
A commercial U.S.A. Bell Model 47D helicopter owned by Fabick Aircraft out of St. Louis, Missouri landed at a local garage in the town of Athabasca on November 10, 1948. The United Geophysical Company was utilizing the helicopter for oil exploration surveys on seismograph operations. The contracting Bear Oil Company had previously used fixed-wing aircraft for the aerial surveys including boats along the Athabasca River to transport exploration parties around. They had even concidered using a rotary-wing autogiro to assist in the oil surveys.
The helicopter was used into the fall of September and October on the experimental exploration work. This new type of helicopter operation turned out to be very successful for the exploring oil company.
The Air Force's first Sikorsky S-51 helicopter # 9601 was demonstrated at an air show in Peace River on May 30, 1949. The helicopter was flown by Flying Officer Doug McBurney.
Fabick Aircraft was back again in the summer of 1949 t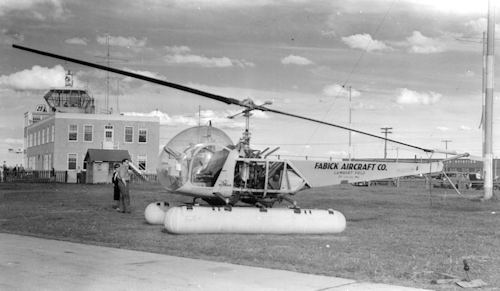 his time based up along the Northern Alberta Railway tracks at Chard, north of Lac La Biche.Here oilman Michael L. Benedum pioneered the use of two Bell Model 47D helicopters on floats to transport portable aluminum towers in conjunction with gravity meter geophyisical surveys in muskeg country. The air operations were completed without major road construction. The United Geophysical Company  were searching for areas of potential wildcat well drilling operations.
Bell Aircraft Corporation salesman Tug Gustafson brought two Bell 47 up via Montana to northern Alberta near Fort McMurray for additional oil exploration in 1949. The operations continued into the early fall. It was obvious that the use of helicopters in the search for oil and gas in Alberta was proving beneficial for the energy exploration companys.
Gustason began lobbying Calgary oil companies to use the new helicopter on their 1950 summer exploration programs. One Company, Socony Vacumn Oil,  agreed to use helicopters in their future operations. Immeadiately Tug Gustafson contacted Associated Airways President Tommy Fox in Edmonton about starting up a helicopter business. He encouraged Fox to purchase a Bell helicopter to us on the proposed Socony Vacumn Oil exploration in 1950.
The result was the formation of Associated Helicopters Ltd., a subsiduary of Associated Airways under new president Rex Kaufman. This was the very first helicopter company formed in Alberta.  There were only four commercial helicopter companies throughout all of Canada in 1950.These included Kenting Aviation Ltd., Toronto Ontario, Spartan Air Services Ltd., Ottawa Ontario (also formed in 1950), Okanagan Air Services Ltd. Penticton B.C., and the Helicopter Exploration Company Ltd. in Vancouver B.C.
Associated purchased a used modified Bell Model 47D helicopter on wheels  CF-GSL.
It was transported in the back of a new O.K. Co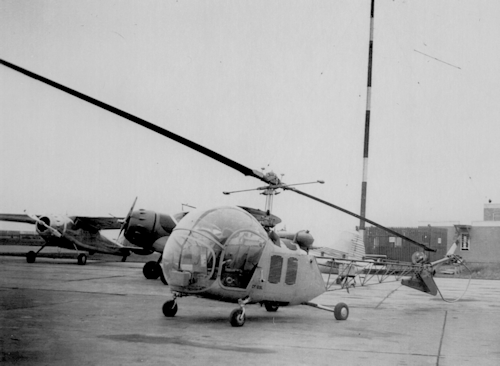 nstruction dump truck across Canada to Edmonton. American pilot Chuck Magner was hired to fly Associated's helicopter that summer. He had previously flown for Fabick Aircraft the summer before in the Chard area during 1949.
CF-GSL was ready for field operations by June 19, 1950. The helicopter was flown up to the Fort Vermilian area by Magner where it was used on its first revenue oil and gas exploration work. The first season was over by the start of fall.
Chuck Magner gave helicopter piloting instruction to Associated Airways Tellef Vassjo during the fall of 1950. He completed the training of Vassjo and returned back to the U.S.A. Tellef received almost 34 hours of both dual and solo flight time on CF-GSL.
Associated Helicopters Ltd. at # 10 hangar on the Edmonton Airport started small and matured into a highly respected and very successful company in the helicopter industry over the years beginning when the helicopter was very new to the aviation world.