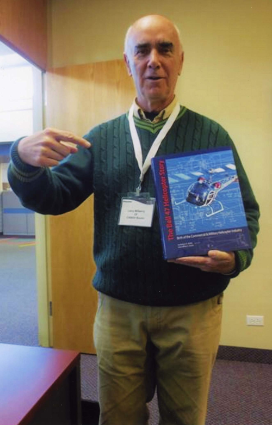 SPRING 2023 NEWSLETTER
A NEW YEAR
Tuesday, May 09, 2023
I have to apologize  for the lateness of the Helicopter Heritage Canada newsletter in 2023 due to unforeseen personal matters.  We are now back and in a New Year. The Bell  47 Books are still selling quite well with books mailed out monthly. Postage rates continue to increase unfortunately. However for the time being, all Bell 47 Books sold in Canada and the USA at the $89.95 price will still include postage for 2023. This is a real bargain as postage has risen to about 30 % overall. This will have to be reevaluated at the end of the year. Now is the time to purchase the most detailed story ever of the Bell 47 helicopter. There are no other books about the Bell 47 available anywhere in the world documenting the history of the very first commercial helicopter as in The Bell 47 Helicopter Story. Chances of the Bell 47 book being republished are very slim.  Get your personal copy of The Bell47 Helicopter Story before they are all sold.
Photo at top of page is Canadian aviation publisher Larry Milberry from Canav Books out of Toronto Ontario holding a copy of The Bell 47 Helicopter Story at Friesen Books in Manitoba back in 2012.
Do not forget to check out our Facebook page for the latest photographs of historical Canadian helicopter history. Click on the Facebook button on the right hand corner of the Helicopter Heritage Canada website to view the latest updates. I also contribute to the Dominion Pegasus Facebook page documenting many other Canadian helicopter history photos.
My feature story for the spring newsletter chronicles Canadian bush pilot Jack Charleson aviation exploits in his  story  on how he became the very first commercial helicopter pilot in Canada during World War II back in 1945. Jack Charleson took his training on Sikorsky helicopters with the US Army Air Forces Sheppard Field, in Texas. The only other helicopter pilots trained in 1945 on helicopters were from the Canadian Navy at the British Royal Navy School at Floyd Bennett Field in Brooklyn New York. One RCMP (Royal Canadian Mounted Police) officer was also trained on helicopters at the USCG (US Coast Guard) School) at Floyd Bennett Field around the same time as Charleson was taking his training in Texas.
Jack Charleson is being nominated this year in 2023 for entry into the Canadian Aviation Hall of Fame (CAHF) based out of The Hangar Museum in Calgary, Alberta by his daughter, Janice MacAulay, from Ottawa, Ontario. The nomination of Jack Charleson for his contribution to Canada's helicopter industry during its infancy is well deserved.
Enjoy the Jack Charleson Story. 

Download the pdf