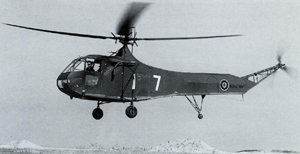 Preserving Canada's Helicopter Heritage
Welcome to our blog!
Friday, August 10, 2012
Welcome to the initial blog and newsletter on the new Helicopter Heritage Canada website. Plans are to update the site every two months to start.
Why a website on Canadian helicopter history? First of all, there are really no good websites dedicated to the history of helicopters in Canada. The intention of the website is to bring together a site that one can view the legacy of past rotary wing history. The first commercial helicopter in Canada including the first Canadian military helicopter was imported back in 1947. This happened over 60 years ago. I believe that the time is right for the new website.
It is hoped that over time the website becomes a clearinghouse and data base for preserving early Canadian helicopter history memorabilia before it is lost forever. I encourage you to loan or donate any items such as photographs, scrapbooks, advertisements, brochures, helicopter reports and articles, logbooks, and other related materials. Should you wish to have your items returned, they will be copied, scanned and returned in a timely manner. I have interviewed over 250 people including pilots, engineers, and others in the early helicopter industry along with fellow historian Ken Swartz.
This historical material will help to assist historians, book authors, and researchers in writing an accurate history and account of Canada's rich aviation past.
In time I plan to even cover USA helicopter history especially where it might relate to Canada's heritage.
Back in 1995, I started contributing helicopter history stories to the Canadian magazine Aviation Quarterly (now out of print). One of my first articles covered Canadians who received helicopter training on early Sikorsky R-4 two-place helicopters at the U.S. Coast Guard Naval Air Station Floyd Bennett Field in Brooklyn, N.Y. It was at the Directorate of History and Heritage facilities in Ottawa, Ontario during a visit that I came across some reports on early helicopter training by RCN personnel.  In gathering research on the program, I travelled all across Canada. I was fortunate to locate and interview four out of the seven Navy helicopter pilots. The efforts of these Canadian pilots, when rotary wing helicopters were in their infancy, helped to shape Canada's helicopter history and heritage.
Canada's Second World War Helicopter Pilots
- Bob Petite