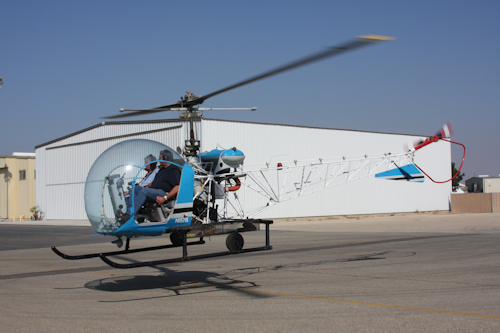 Helicopter Research Trip California Fall October 2012
Vintage Bell Model 47D-1 Flight Shafter Airport Ca.
Tuesday, December 18, 2012
I made a trip down to Santa Ana California in October to check with the publisher on the progress of the future Bell Model 47 book. The index is presently being worked on. It has turned out to be a bigger job than anticipated and it appears that the book will not be ready to go to the printers until early 2013. I am waiting on the final proofs to be sent out and reviewed once again.
While down in southern California my friend Jeff Evans (my partner in the Bell 47 Book) and I decided to make a trip north to visit several Bell 47 operators who are in the aerial agricultural spraying business. One of our first stops was at the Shafter airport just north of Bakersfield.
We checked in at GK Aviation Ltd. to get permission for photographing some of their spray helicopters out on the flight line. The owner Gerald Lewis was in and invited us to sit and talk.  We updated him on the Bell Model 47 Book and afterwards he told us that he owned an old Bell 47D-1 in a hangar down the way. He asked if we would like to see it.
Within minutes we were in his vehicle and on our way to his hangar. He was kind enough to move the helicopter outside so that we could photograph the helicopter.
The upgraded Bell 47D-1 turned out to be N157B manufactured originally by the Bell Aircraft Corp. as a Model 47D serial number 11 back on November 21, 1947.The helicopter was sold to Central Aircraft in Yakima, Washington an early Bell helicopter dealership. Central later sold it to Wala Wala Helicopters. The helicopter was sold again this time going to Carl Brady for his spray and dusting field operations.
Lewis eventually obtained the helicopter and had it maintained locally by Bob Penland. The upgraded Bell 47D-1 helicopter has a 235 hp engine, a - 600 transmission, hydraulics, and metal main rotor blades. There are few Bell 47D-1 helicopters with metal blades.
Gerald Lewis said that since the helicopter is out he would give us each a chance to fly in N157B. In fact we both got about one half an hour airtime each actually controlling the helicopter using both cyclic and collective. It turned out to be quite a day and thrill to fly such a historic rotary wing aircraft.
Following are a set of photographs taken on October 16, 2012 of Bell 47D-1 N157B: